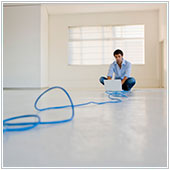 The way we work has changed. Employees can be productive working in their home or in the field – as long as they have the information that they need. Outdated accounting systems that can't put information at the tips of your workers' fingertips will hold you back.
Extend the reach
Your employees and your customers have become accustomed to having the information that they need no matter where they are. If your business is not using technology to promote interaction in the field, customers will find a competitor with more modern support.
The technology to support remote workers is more affordable and easy to deploy than ever before. Employees can access and transmit information over the web from their desktop or smart phone. Communication using the same tools and channels they use at the office, such as instant messaging, email, voiceand presence can be supported using cloud applications or personalized gateways with secure, web-based access.
Build productivity
By extending technology, you can give customers better service and make your employees more productive. For example:
Service workers who don't need to come back to the office to file paperwork can make more calls during the day.
Employeesworking from home can share documentsthrough portals with automated workflow to ensureprocesses flow smoothly.
Self-service capabilities allow employees to streamline administrative tasks, like entering payroll hours, tracking time and accessing HR documents.
Requisition management allowsemployees tosubmit purchase requisitions online, route to managers for approval and automatically send to the purchase order system.
Businesses todayare using technology creatively to allow employees to accomplish more in the field. With the right support, working from home or remote locations can be just as productive as being in the office.  In fact, many workers say they can get more done at home away from the distraction of meetings and the water cooler.
By extending the information in your business management system, you can keep your employees  productive wherever they work.  Let's talk about connecting your team and growing your business.
Published with permission from TechAdvisory.org.
Source.